Many have asked me why I choose to run 100 miles. The answer is layered. Sitting right in the center of it all is the fact that taking on a challenge like that changes you forever.
Here's what I mean.
The transformation starts way before you reach the start line. It starts on the day you define the goal, fill in your details on the entry form and pay the entrance fee. Having a clearly defined goal to work towards beings a direction and purpose into our lives. If that's the case for trail running, it will be the case for all areas of our lives. What goals are you working toward right now?
Ultra Trail Drakensberg (UTD) was a very stretching goal that was going to require a lot from me. I had run 100 miles before at last year's Karkloof100, but it was a 'soft' entry into this mysterious world of long distance running with crazy people. KK100 had afforded me a nice runnable track (mostly) and a loop format which saw me passing my car, my friends and my food every half marathon. Due to the lockdown level we were in at the time, I also had the added benefit of being pulled off the course for a mandatory sleep. Of the 33 hours that lapsed from when I started to when I finished, I ran for 26 hours. UTD would be different. Firstly, it would be my first nonstop 100 mile race. That's a good 162km of pure mountain trail in one go. Secondly, 73km of the race would be run above 2900m in Lesotho. This included summiting Thaba Ntlenyana, the highest peak south of Mount Kilimanjaro at 3400m. This would more than likely take place at night in subzero temperatures. The rest of the race would be in and around Underberg in the Southern Drakensberg. Those trails were no joke either, especially the giants cup trail section which we would run to complete the race.
The months leading up to the event was all about getting up to the mountains as much as possible, putting in the mileage and buying the right gear. I love this part of the journey because of the focus it brings. As you follow a plan, you develop confidence. Each step raises your game and brings you closer to that moment when you feel ready (as ready as you can be!) to tackle the goal. I love how our bodies and our minds respond to discipline. There is something deeply gratifying about having put in a batch of training which leaves you visibly fitter and stronger, mentally and physically. Discipline is something we all need if we want grow and develop. In The Middle Journey, we talk about working intentionally toward mini milestones. These mini milestones all build up, enabling us to reach the goals we have set for ourselves. The small runs, the long ones, the stretches, the Pilates classes… they all add up, building you and shaping you for what's to come. That training, I find, brings discipline to other areas of your life. You eat healthy food. You avoid too much alcohol. You get a good night's sleep. You look after yourself. Now I don't want to live any other way. UTD, before I even got to the start line, had impacted my life for the better.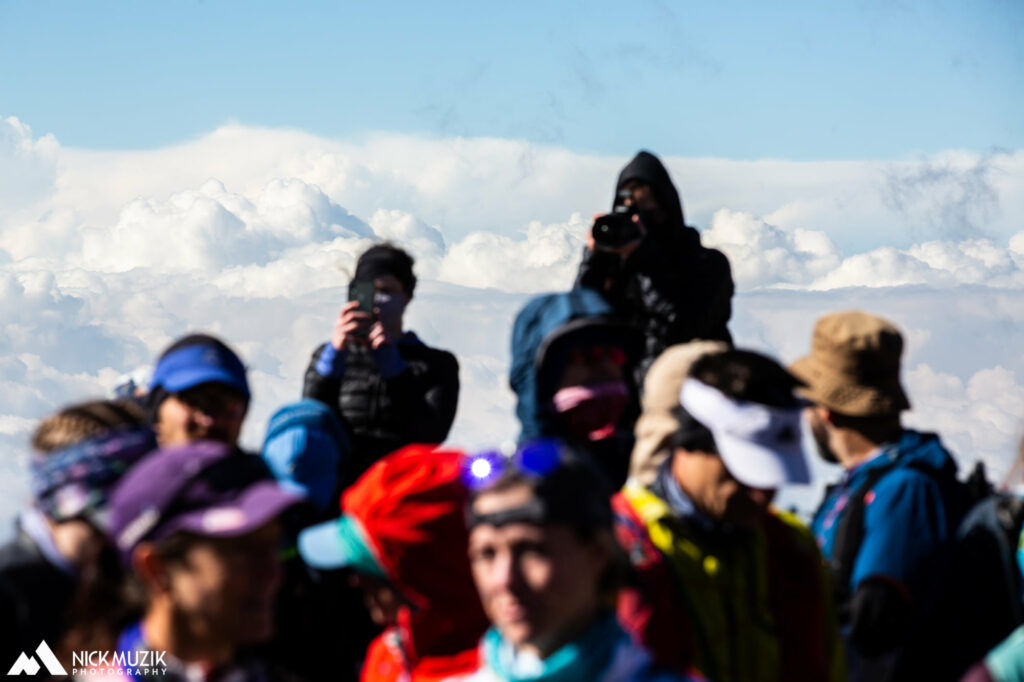 At 10am on Friday 23rd April the cowbells rang signalling the start of the race. I had set myself a goal of 32 hours. In order to reach that goal, I had written a plan which included the times I would be reaching each aid station. Unlike Karkloof, where I set myself four plans, I decided to just set one and to work off of that. I wasn't attached to the 32hours but would like to come in as close to that as possible. Aside from a wrong turn, the first 10k's or so went well. At around 15km I hit a wall. This was very early to hit a wall. I felt heavy, like I had too much gear on, was uncomfortable in my pack, didn't want to stop to find nutrition and most frustrating of all, was just moving to slow. I was struggling to find my groove and get in the zone. This was a real DAY 5 moment for me, middle language for a proper slump where your reality and your expectations don't line up. I simply hadn't expected to feel like this so early on. The battle began in my head as I fought to keep myself in the game, managing my perspective as best I could. That's when I remembered my conversation with Travis Macy, renown eco adventure racer, about the bounce back. Our bodies have an incredible ability to come back from a slump. We can experience a low and can move through it to bounce back and feel great again. All we have to do is keep going and wait.
Pic: Marzelle van der Merwe
Lesotho was fraught with DAY 5's. Whilst I was able to increase my pace and gain some ground, the climb up Thaba Ntlenyana was slow. I was now running with MC Van Zyl and grateful for the company. It would have been lonely up there. Bryce Hatfield who was on his own, swiftly caught up with us on the descent also keen on joining a group rather than running on his own. The three of us trundled along, struggling to maintain any sort of running rhythm. Together, we shifted our pace to adjust to what we were feeling. The section from Thaba Ntlenyana to the Sani Pass Backpackers aid station, which marked the end of the Lesotho leg, was the toughest section to navigate, with uneven terrain and loads of rocks to kick and stumble over. Bryce and I had pulled ahead of MC and found ourselves arriving at the backpackers 1.5 hours behind my intended time. When I walked in I saw how Lesotho had broken many bodies. Stories from that aid station include runners vomiting in buckets, drips being administered, runners passed out for hours under their space blankets and eyes closed for hours to recoup. I actually felt relatively good and by now had surrendered to the experience and let go of following a time too closely. I know I am competitive. I know that I like to set ambitious goals and achieve them. I had to wrestle that out of myself up there. I had to accept what I was feeling and the context I was running in. I had to yield to the fact that for now, the pace I was achieving would not be increased without considerable effort. I felt convicted that I had to get to the same place in other areas of my life. Too often, I am inpatient, in a rush, keen to reach a goal and frustrated that I am behind the curve. Navigating Lesotho with MC and Bryce will always be a reminder that sometimes one just needs to be present as you deal with your current context and move forward as intentionally as you can.  And that's the thing about these events. No course, workshop, book, conference or webinar can truly implant these insights as deep into your being as these experiences can. Now, as I remind myself to be present, I am not drawing from a classroom or a page I read, but from a few very surreal hours navigating Lesotho in the dark with two people who were strangers before we got up there. I can feel it, see it and taste it. It's very real and raw for me. That's the emotional connection we need for true transformation.
Leaving Sani Pass Backpackers, I knew we had broken the back of the run and would now descend into South Africa which meant two things. Firstly, we would start to feel better with the lower altitudes. Secondly, at 100km we would see friends and family and from then on, would be running in South Africa in terrain I was familiar with surrounded by the runners tackling the shorter distances. It was time for a bit more gees! That doesn't mean the next 27km to the 100km mark were easy. In fact, they were brutal. By now my left knee was in pain and the path seemed to go on forever, winding behind, over and through an escarpment leading down to an aid station called salt and pepper. It was the dead of night and seemed to go on forever! At one point I felt like we were lost with no sight on any other runners. Disoriented I called my wife and asked her to check where we were on the app. We were on the right track. I could see the lights of the runners ahead of me leaving Waterfall aid station and heading into the last stretch in a nice long line. At that point it was just Bryce and I and we both couldn't wait for the meandering section to spill us out into the arms of our families. I found this was the stretch where I had to have a real talk with myself and refocus. I had to remind myself of why I was out there and reconnect with my story (DAY 6). I was there to learn more about endurance. I was there to have an adventure. I was there to stretch myself and find out more about what was within me. And I was doing all of those things! I was living my story. We so easily forget the key elements of our story when the going gets tough. Each time I reflected on the purpose of my run, I felt a surge of joy and excitement rise up in me, not just because of what I was experiencing right there and then, but because of what was still to come. In a way I didn't want this experience to end. I still had 60km+ ahead of me to learn and grow in what was going to be a 34 hour transformative trail run.
Pic: Kirsten Oliver
Arriving at the 100km mark was significant given it was the first time I saw my tribe. My wife Toni, Garth's wife Claire, Darryl and Vicky and even the other supporters and seconders were all present, waiting for their runners. There is such a reviving power in a tribe. Any doubts you had of giving up, any negative feelings seem to fade away when you experience the positivity of the people around you, as well as their belief in your ability to reach the goal. From that moment on the race changed as my wife would not be with me at all the aid stations to follow. This meant a car full of food and drink at each stop as well as the affirming 'well done love, you are doing so well' which certainly keeps me going. I felt my pace quicken and my legs strengthen. I ran without ceasing, improved my standing on the leaderboard and reminded myself of where I was at a good few hours ago up in Lesotho. This was the bounce back I had been waiting for and I certainly loved every minute of running alongside the Mzimkulu river. The kilometers and the time seemed to fly by. I was etching closer to the finish line and growing grateful for what I was about to achieve.
Soon the last stretch was upon me. The last stretch of any journey is one which is filled with a tension between 'I'm almost done' and 'I have so much left to go'. This conflict is rather surreal, as you dig deep on tired legs to tackle what is a small distance in comparison to the distance you have already travelled. The last stretch of any journey is one where we almost need to focus harder, lock ourselves into the finish line and keep pushing. This is where we need to focus on technique and keep it all together. This is definitely not the time to stop and sit, but rather to keep moving and get there. It almost requires the most effort made easier through the knowledge that the end is near. Given I had trained up there, I knew what was to come and I knew the last 10km's of the run was over some incredibly difficult terrain. It was mostly about keeping my perspective in the right place and moving forward, especially as it grew dark for the second time. To finish well is to do your best and keep moving forward with intention.
At last we popped out the forest, ran under the road and entered onto the Sani Pass Hotel golf course for the last stretch home. This is a strange and surreal moment. It's over. But part of you doesn't want it to be. Part of you wants to try and reflect on what has just taken place and grab onto the significance of it all. A flash of memories takes you back over the journey you have just navigated, and you can't seem to right size the significance of The Middle you have just navigated. But thing is for sure, in that moment I knew my life would always be about tackling ambitious goals. There is no better feeling than crossing the finish line of an ambitious goal that has required you to stretch yourself, dig deep and leverage your capacity in The Middle. I don't want to live an apathetic life. I don't want to live small. I never thought I would be running 100 miles but here I was crossing the line. And I want to go back. I want to improve my time, run the race better than I did before and learn from my mistakes and failings. I know, because UTD taught me once again, that I can conquer emotional, mental and physical lows and bounce back.
Pic: Marzelle van der Merwe
Do you have a vision you would like to walk into, a goal you want to achieve or an idea you would like to activate? Write it down. Draw up a plan. Start the journey. Navigate The Middle. Don't listen to the negative voices. Listen to the voices that matter. Dig deep. Stretch your limits. Believe in yourself and you can reach the finish.
After all, we were all made for tough terrain.
See you in The Middle.